Marketplace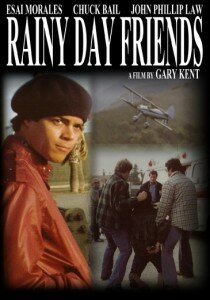 RAINY DAY FRIENDS
"Best Movie Stunt of the Year" — International Stuntman Awards
"A well told, impressively directed and engaging story" — Variety
Sometimes something ignites a spark in the human spirit. That's the way it happens for handsome, hot-tempered Neekos Valdez and tough ex-fighter pilot Smiling Jack Marti. Confined to a large Los Angeles Hospital as a ward of the city, Neekos denies his illness and generally disrupts the Hospital routine. He escapes to the streets to face life alone… sick, hunted, and haunted, trusting no one, not even his family. Smiling Jack, a fellow patient, comes to his rescue. An unlikely friendship develops, and these two warriors, one a War Hero, one a bad-ass kid from the streets, unite forces to defeat both their illness and an uncaring system. Straightforward and refreshing, this independent classic offers a rare and extraordinary glimpse of the struggle for life and self.

Includes an all new 16-minute featurette "Rainy Day Friends: Then and Now" and audio commentary with director Gary Kent!
$20.00 USD (+tax/shipping)
•••••••••••••••••••••••••••••••••••••••••••••••••••••••••••••••••••••••••••••••••••••••••••••••••••••••••••••••••••••••••••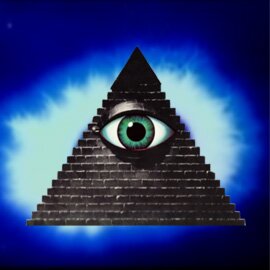 THE PYRAMID
Gary Kent's Hip 70s adventure through consciousness is back!
"The Pyramid is a deeply moving spiritual record of its time that is just as relevant today." — The Boston Globe
"Recalls Haskell Wexler's ground-breaking film MEDIUM COOL." — Los Angeles Times
A young TV news reporter grows tired of Commercial programming and decides to cover more positive stories. He is fired for his troubles, and goes on a personal search for truth and meaning. A voyage in consciousness for the millenium.
The Pyramid has a freshness of young faces that was a hallmark of 70's era flix. Combined with the real movers and shakers in the "Consciousness Movement" and the contributions of major musical talents providing the film's score, the cast and crew of The Pyramid remind you of why the l970's were the last great gasp of the Independent movie as "Art Form."
Starring: Charlie Brown, Ira Hawkins, Tomi Barrett, June Christopher and John Stoglin Parker
Appearing as themselves: Captain Edgar Mitchell, astronaut, sixth man on the moon; Dr. Thelma Moss, Neuro-psychologist, UCLA; Dr. Clive Baxter, Komar The Magnificent, et al.
Music by: Vaughn Meader, Karen Brooks, Douglas Dillard, and John Hartford Closing song and orchestration by Solomon Burke, called by Newsweek "The King of Soul," and by Time Magazine "a spirit in the wind; so long as we breathe he will be alive in all soul singers."
This remastered DVD includes 17 minutes of special edition interviews with cast and crew including director Gary Kent.
$20.00 USD (+tax/shipping)
•••••••••••••••••••••••••••••••••••••••••••••••••••••••••••••••••••••••••••••••••••••••••••••••••••••••••••••••••••••••••••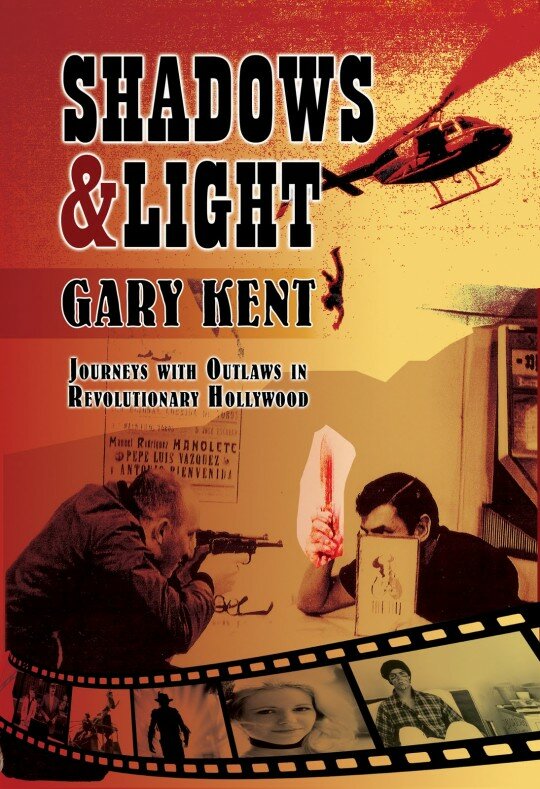 SHADOWS & LIGHT: JOURNEYS WITH OUTLAWS IN REVOLUTIONARY HOLLYWOOD
"Gary Kent gives us an all access backstage pass to the days when filmmaking was poetry, when guys like Jack Nicholson and Warren Oates were working out of offices the size of closets, and craft service was a bologna sandwich. Kent's memories are intimate and evocative, sliding through your consciousness like a fine wine…" — Esai Morales, award-winning actor, Screen Actor's Guild Board of Directors
"I loved this book. Gary Kent weaves an expertly written and all-true story of the fantastic world of movies, with all of the action , actresses, drink, drugs and sex. From the excesses to the exquisite, an amazing story." — Don Coscarelli, director: Bubba-Ho-tep, Phantasm
Visit the Library page to read more about the book!
$20.00 USD (+tax/shipping)
All copies purchased through this site are signed by Gary Kent!
•••••••••••••••••••••••••••••••••••••••••••••••••••••••••••••••••••••••••••••••••••••••••••••••••••••••••••••••••••••••••••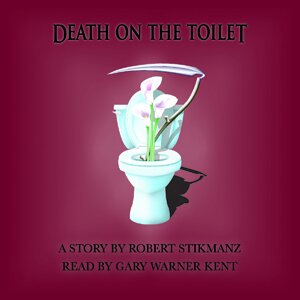 Death on the Toilet Audio CD
a story by Robert Stikmanz, read by Gary Warner Kent
$5.00 (Plus Shipping and Handling)